Commercial and branding illustrations
Connect with your ideal customers using unique illustrations, Think custom icons, postcards and seasonal campaigns. Embrace creativity in a way that showcases your business that will set your apart. I've listed below examples of how I can incorporate illustrations into your brand and business.


Children's book illustrations and character design
Delight, capture and inspire children with the magic of illustrations. I know from illustrating my own books how rewarding it is to see your story brought to life through characters, scenes and imagination.
Magazine and editorial illustrations
Sometimes all you need is a person sitting on a giant top hat. Fun to photograph but a lot of work to produce. Illustrations are a creative way to enhance your articles and magazines with a perfectly paired illustration.

infographics and visual storytelling
Let's explain how to make a cake to someone that's never seen one or even been in a kitchen. It's tricky! Pictures are universal and when used correctly they can motivate, empower and narrate powerful messages.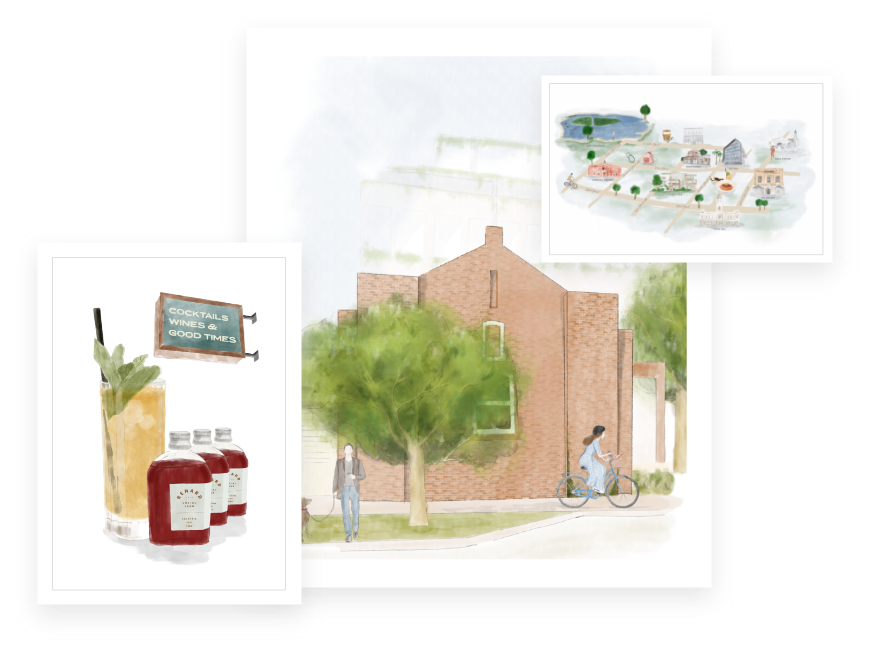 A series of Ballarat-inspired illustrations, watercolour map and artist impression of Lyons Place
Explore the regional town of Ballarat through a collection on rich watercolour illustrations. Created for the exclusive Lyons Place, a boutique apartment building in the heart of the CBD. Surrounded by fine dining, homeware stores and cafes a short walk away. I was asked to capture the atmosphere of Ballarat through each illustration, view the entire collection at the link below.