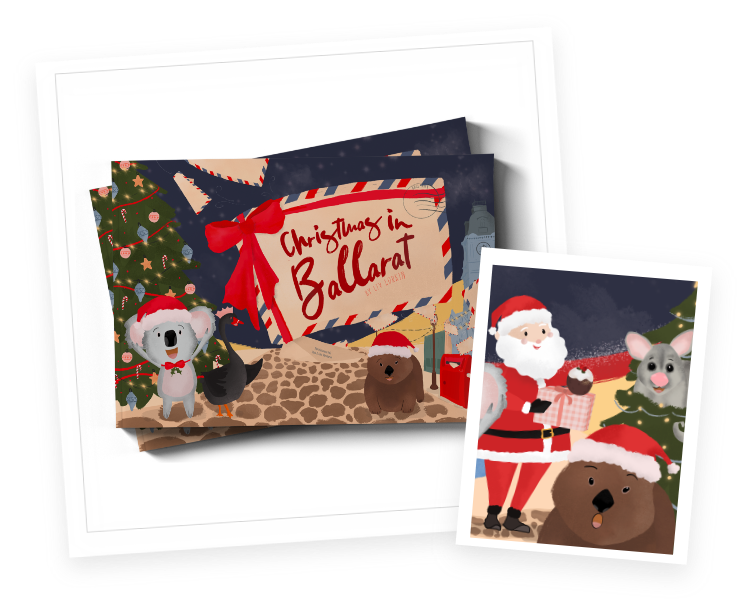 Christmas in Ballarat Illustrations
Celebrate the magic of the holiday season with delightful illustrations capturing the essence of Christmas around the Ballarat region.
Christmas has always held a special place in my heart. As a child, it was a time for coming together with loved ones to relish in delicious food and create unforgettable memories. "Christmas in Ballarat" is a limited edition book that captures the essence of this magical season through the delightful adventure of The Wendouree Pals.
The enchanting story unfolds as Santa turns to The Pals for help after one of his reindeer accidentally devours the map of Ballarat. This charming tale takes readers on a riveting journey filled with obstacles to overcome and new friends to encounter, as The Pals work together to save Christmas.
In crafting this book, my vision was to create a treasured keepsake that children would cherish year after year, eagerly revisiting the story each holiday season. To achieve this, I carefully selected a rich red foil to adorn the front cover. The lustrous sheen of the foil lends a touch of elegance and sophistication to the book, garnering countless compliments on its exceptional appearance and tactile appeal.
I invite you to delve into the captivating world of "Christmas in Ballarat" by exploring selected scenes from the book below. Experience the magic of the holiday season as you follow the heartwarming journey of The Pals and their quest to save Christmas in Ballarat.
You can purchase your own copy here or visit one of my local stockists.
Love my work? Contact me for your next illustration project (or book!).