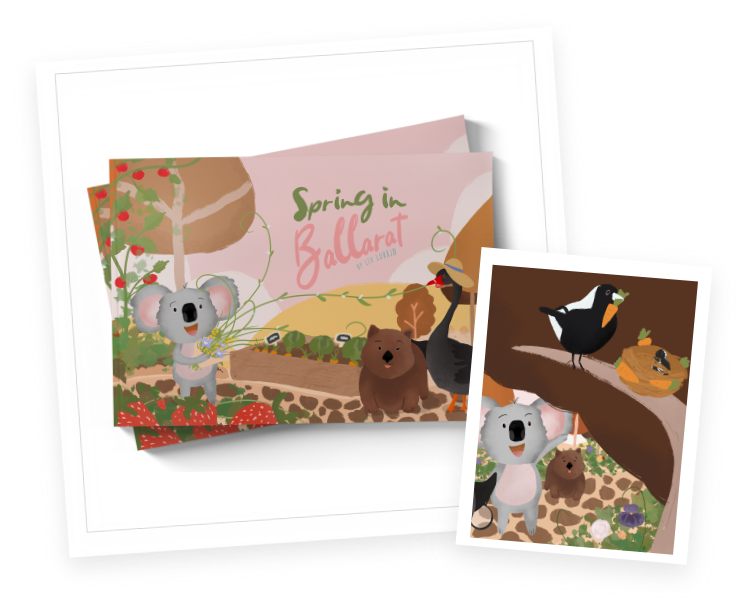 Spring in Ballarat Illustrations
Experience the vibrant changes of Spring with this beautiful children's book
"Spring in Ballarat" is a book that captures the essence of the season in this beautiful town. As a Ballarat-based artist, I have always been inspired by the vibrant colours and lively atmosphere that can be found here in the springtime.
The book follows The Wendouree Pals; Lynnie, Miss Eccles, and Herbert, as they embark on a thrilling adventure to solve a mystery in Ballarat. As they explore the town, they encounter the wonders of the season, from blooming flowers to dragonflies flitting by.
I am particularly proud of the illustrations in this book. Each page is bursting with colour and energy, capturing the liveliness and vibrancy of Ballarat in the spring. From the charming characters to the stunning landscapes, I wanted to create a visual journey that would delight young readers and transport them to the heart of the town.
"Spring in Ballarat" is not only a fun read for kids but also a beautiful keepsake book. I believe that the stunning illustrations and captivating storyline make it a perfect addition to any child's library. As they grow up, they will be able to revisit the book and remember the joy and wonder of the season in Ballarat.
In creating this book, I wanted to share my love for Ballarat with young readers, and I hope that "Spring in Ballarat" will inspire them to embrace the beauty and magic of the natural world around them.
You can purchase your own copy here or visit one of my local stockists.
Love my work? Contact me for your next illustration project (or book!).