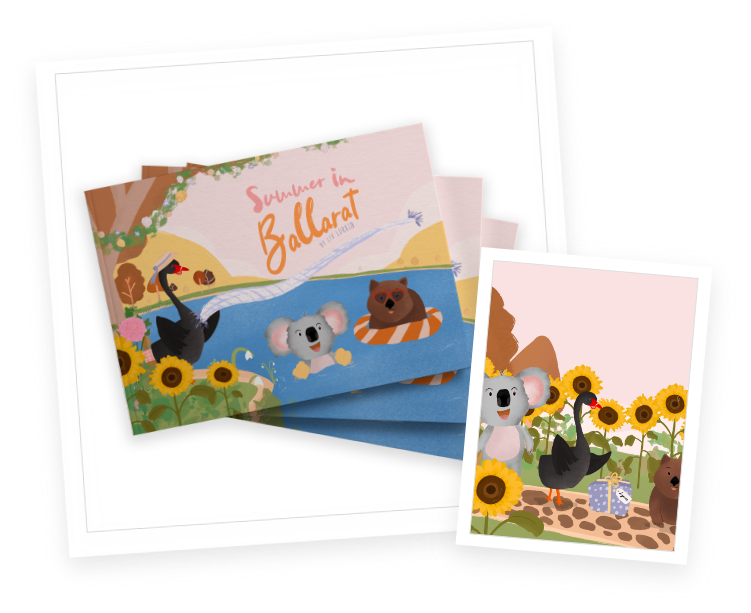 Spring in Ballarat Illustrations
The sun is shining across the Ballarat region and it's another fun day for the Wendouree Pals
"Summer in Ballarat" is the final book in my Ballarat series, therefore it will always hold a special place in my heart. Summer also happens to be my favourite season.
The story revolves around The Wendouree Pals; Lynnie, Miss Eccles, and Herbert, as they set out on a delightful summer adventure to orchestrate the most memorable birthday celebration for Lynnie. As they explore the region, they experience the joys of the season, from the warm sunshine to secret notes hidden around Lynnie's favourite watering holes.
I take immense pride in the illustrations of this series. This book like the collection is full of recognisable locations, iconic spots and fun activities everyone can explore on their days around Ballarat. You can even replicate Lynnie's birthday adventure!
"Summer in Ballarat" is not just an engaging read for kids but also a cherished keepsake book. I believe that the exquisite illustrations and compelling storyline make it an ideal addition to any child's library. As they grow older, they will be able to revisit the book and reminisce about the joy and wonder of the season in Ballarat.
In crafting this book, I wanted to share my affection for Ballarat with young readers, and I hope that "Summer in Ballarat" will inspire them to appreciate the beauty and enchantment of the natural world around them.
You can purchase your own copy here or visit one of my local stockists.
Love my work? Contact me for your next illustration project (or book!).